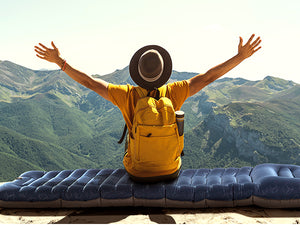 Aceso was the Greek goddess of the healing process, which is also the origin of AKSOUL.
AKSOUL aims to provide users with safe and trustworthy outdoor products, and encourages city dwellers to get more in touch with nature in an effort to heal their souls.
The inspiration for the creation of the brand comes from our boss Robert who is an outdoor sports enthusiast.
On an outdoor trip, he didn't rest all night due to the inflatable sleeping pad pierced by sharp branches.
He recalled various unpleasant outdoor experiences caused by sleeping pads in the past, such as some pads are not waterproof, some pads have very inconvenient inflation or storage.
As a result, he wants to develop a comfortable inflatable sleeping pad.
The success of the inflatable sleeping pad further encouraged Robert, so that the brand AKSOUL was born.
AKSOUL insists on providing outdoor enthusiasts with stylish, easy-to-use, safe and reliable products at affordable prices from the real experience and needs of users.
Our products from the initial inflatable sleeping mat, gradually extended to hydration backpack, camping light, etc..
Each product is produced after a large number of real experience data collection, after vast product design, process and material innovation, and pass the real test for numerous new products.
AKSOUL was founded in 2018 and committed to provide users with safe and trustworthy outdoor products. AKSOUL integrates customer feedback, R&D and manufacturing together, using Internet thinking and channels, which quickly delivers the product to consumers. All goods ships directly to customers from our manufacturing facility in Chino, CA,